.ini RPG Engine
A downloadable engine for Windows
This tiny engine plays .ini files as RPG games using nothing but dialog boxes. Just edit game.ini, save it, and run!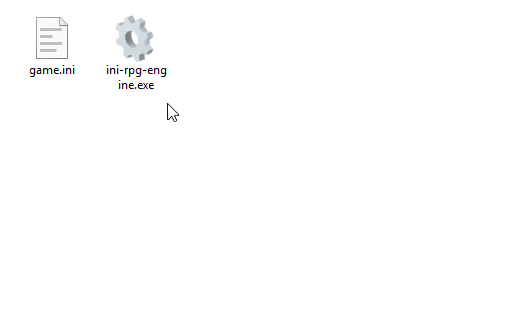 Here is what the included demo game.ini file looks like:

[START]
title=Welcome
message=Welcome to INI RPG ENGINE!
icon=INFORMATION
buttons=OK
OK=PATH
[PATH]
title=Dilemma
message=Your path branches off to the right.  Take the fork in the road?
icon=QUESTION
buttons=YESNO
YES=FORK
NO=STRAIGHT
[FORK]
title=Notice
message=You approach a dark forest. You attempt to enter but are startled by a piercing screech. Try again, or continue along the edge of the forest in search of a detour around it?
icon=EXCLAMATION
buttons=CANCELTRYAGAINCONTINUE
CANCEL=QUIT
TRYAGAIN=FOREST
CONTINUE=DETOUR
[STRAIGHT]
title=Oops
message=Turns out this path loops back on itself. You are back where you started!
icon=EXCLAMATION
buttons=OK
OK=PATH

Well, that's part of it. Download the program to read more, and try it out!
Features

[START]
title=RANDOM(Randomness Demo||Example of Randomness)
message=The title, icon and buttons of this dialog are chosen randomly.
icon=RANDOM(INFORMATION||EXCLAMATION||ERROR||WARNING)
buttons=RANDOM(OK||OKCANCEL||YESNO||YESNOCANCEL||RETRYCANCEL||CANCELTRYAGAINCONTINUE||ABORTRETRYIGNORE)
Download
Click download now to get access to the following files:
Engine v1.0.0 + INI files
186 kB
Engine v0.1.0 + INI file
165 kB
Comments
Log in with itch.io to leave a comment.
I doubt this is possible, but could you add variables/randomness? Thanks!!!!
This is unironically pretty cool