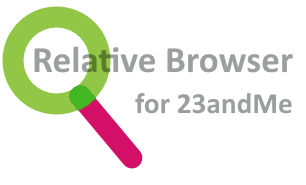 Relative Browser 4 23andMe
23andMe gives you 1,500 relatives, but no easy way to search, filter, or sort them!
With this tool, by clicking on column labels, you can sort your extended family by every available attribute:
Name
Surname
Gender
Shared DNA percentage
mtDNA
yDNA
To use this tool, you must upload your DNA Relatives data. However, no data ever leaves your computer, and processing is performed entirely offline.
To locate your DNA Relatives download button, navigate to https://you.23andme.com/family/relatives/ and click the "Request DNA Relatives Data Download" button at the bottom of the page.
Inspired by this Anthrogenica forum post.
Neither this software nor its author are affiliated in any way with 23andMe®.